Wrigley's New Beginnings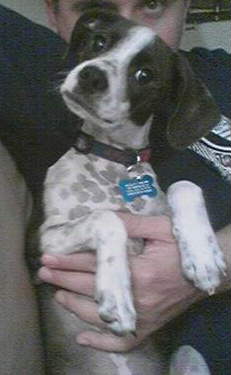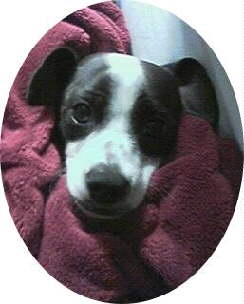 Dear Pet Pro Life,
I'm writing to let you know how great I'm doing. I want to thank you for helping me find my family. You probably remember me as Blaze. My name is now Wrigley, but I'm often called just Wrigs. I'm a whopping twenty-seven pounds and I had my first birthday in April.
I go to the park nearly every single day. I love chasing balls. More importantly, you can get me to do anything if you have a cookie for me! In fact, just hearing the word "cookie" makes me go crazy! So far I can sit, lay down, shake, stay, and now we're working on rolling over.
Everybody loves me and I'm pretty spoiled here. I have a cousin, Tahoe, who sometimes I have sleepovers with. He's a Black Lab and we have so much fun together. My Mom and Dad and sister and my cat friend really adore me; we're all a very happy family.
I've included a couple pictures. I've got a whole bunch, but I decided to send just two. I hope you enjoy them.
Your friend,
Wrigs
P.S. My stomach never grew any hair, so I wear sweaters to keep warm. Aren't I dashing in the picture?