Steve's New Beginnings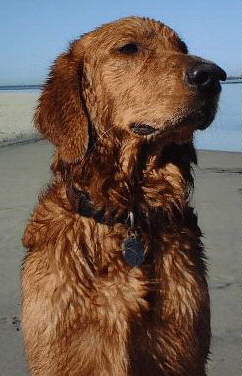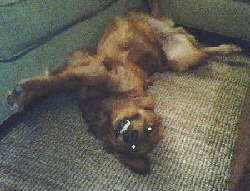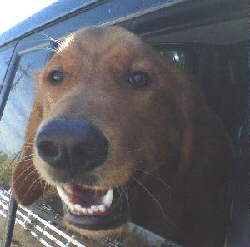 Dear Pet Pro Life,
I just wanted to give you an update on how I'm doing in my new home.
After a pretty rocky start, I'm happy to report that I'm doing wonderfully. My Mom, Deb, and Dad, Fred, crate trained me because I was initially so destructive around the house. Now they're beginning to trust me outside the crate when they leave for short periods of time.
My only vice now is the bathroom trash. I just seem to be addicted to cotton balls, earplugs, and other things in the waste basket, but they're working hard to break me of the habit.
I go to the dog-park every day, and this is helping my confidence to grow by leaps and bounds.
I just love the beach even though I'm still slightly afraid of the waves, and I don't swim yet. But I run and splash and carry on like the goofball I am.
Speaking of goofballs, I tend to be silly as all get out. I'm also probably the most affectionate dog you've ever seen. I love other dogs and all people, and I'm careful to be especially patient around kids. This may seem to be surprising since Mom an Dad don't have any kids of their own. But I sit and let them hug me, pull my ears, and everything.
I've put on a few pounds in the last three months, so I've filled out to about eighty pounds. I hope Mom and Dad soon realize that they need a bigger bed!
They constantly get comments about how handsome I am (so true, if I do say so myself), how huge (yes, I know, thank you!), and how well behaved!
My Mom and Dad think I'm a true sweetheart, and they feel blessed that they're able to share their home and their love with me, whom they think of as an awesome, furry beast. I feel just as blessed myself.
They say that I'm growing into an amazing dog and that once I pass through adolescence and can focus for longer than two seconds at a time, there will be no limit to what I'll be able to learn.
Thank you, Pet Pro Life. I love my new family, and it's obvious that they love me.
Your friend,
Steve
PS: I just loved the Christmas holiday! Check me out!
Buffalo Bills Car Seat Cover - Black,Mens Washington Redskins White City Scape Sublimated Jacket
Atlanta Falcons Football Jersey
.Men's Oakland Raiders Majestic Gray Critical Victory T-Shirt,Tervis Tumbler San Francisco 49ers Colossal 24oz
The Atlanta Falcons Jerseys Super Bowl
. Wrap Tumbler Pro with Lid.Men's Denver Broncos Nike Navy Essential Logo T-Shirt,Dallas Cowboys Executive Foldable Tablet Cover - Black/Gray.Atlanta Falcons Jersey Small Over Small Metal Acrylic Cut License Plate Frame,Preschool Seattle Seahawks College Navy Team Logo Fleece Pullover Hoodie,Women's Cleveland Browns Love Glitter Slippers
Atlanta Falcons Custom Jersey
.Men's Chicago Bears New Era Navy/Heather Gray Classic Cover Cuffed Knit Hat,Tennessee Titans Retro Scarf.Women's San Francisco 49ers Canvas Stripe Shoes,Nike Cincinnati Bengals Fast Wordmark T-Shirt - Black,Mens Green Bay Packers Antigua Black Victor Quarter Zip Pullover Jacket.cheap nfl coats 280,cheap nfl gifts za,Men's Arizona Cardinals Pro Line Gray Lombard Stretch Fit Hat,Girls Youth Arizona Cardinals 5th & Ocean by New Era Cardinal Basic Logo Tri-Blend V-Neck T-Shirt
Nike Atlanta Falcons Womens Jerseys
.New England Patriots iPhone 5 Hard Commemorative Hard Case - Navy Blue,Seattle Seahawks Double-Sided Antenna Flag - Navy Blue,Women's Detroit Lions PINK by Victoria's Secret Blue/Gray/White Bling Varsity Crew Neck Sweatshirt