Starr's New Beginnings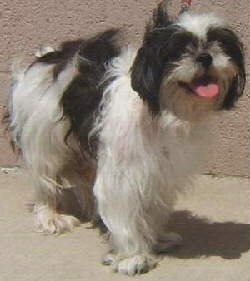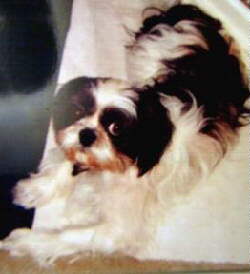 Dear Pet Pro Life,
When a Pet Pro Life volunteer took me in, my name was "Pee-Wee." I was really in need of constant love and affection. As luck would have it, a nice couple saw my listing on the internet. They had been looking for a new friend for their male Shih-Tzu, Storm'e. They had recently had to let their other dog go due to old age and illness. My soon-to-be new family came to Pet Pro Life at PetsMart to meet me and see if Storm'e and I would hit it off. We fell in love with each other immediately and before I knew it, I was on my way to my new home.
My new people took me to the vet for a thorough checkup and to have me spayed. The vet found a previously unknown hernia, which he repaired. All that, plus having my teeth cleaned, was quite an ordeal, but my recovery went well, what with all the attention I received from my new family.
Storm'e and I have our own private dog run, a large grassy area where my family takes us for exercise and to do our "business." I've gained a little weight and I'm filling out nicely. I've had my first grooming session with a nice lady who has a shop close to my home.
This is a picture of me in my new home where I'm fitting in very comfortably. My people have renamed me Starr; I think that's a very fitting name for a little girl like me.
Storm'e and I have a king-sized bed; we allow our people to share it with us at night. During the day we use it to sun ourselves and to mess up the pillows.
Thank you for all your help in finding me a loving family.
Your friend,
Starr