Roxy's New Beginnings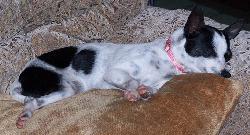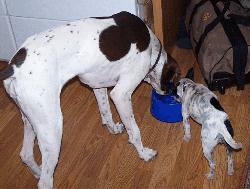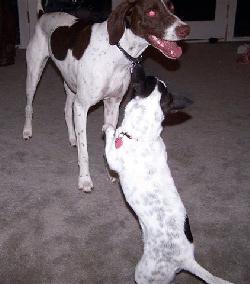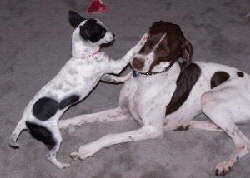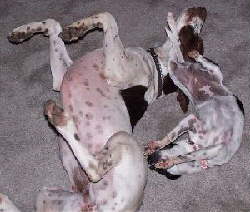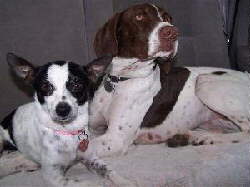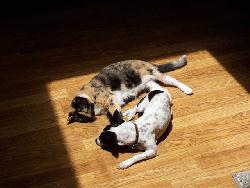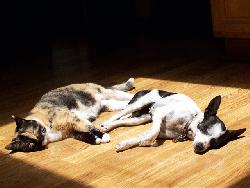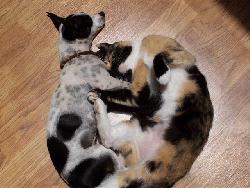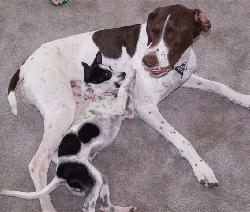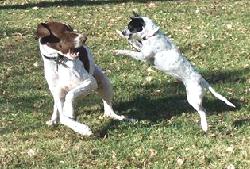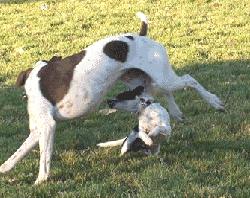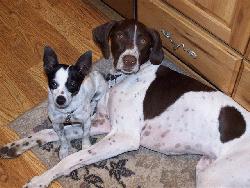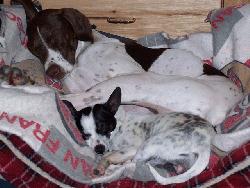 Dear Pet Pro Life,
Thank you again SO much for connecting me with my new family: my new Mom Heidi and Dad Nick, their boys, and my new "sister" Maddie. As you suspected, I curled up in the back seat with Maddie for the long drive to my new home. We stopped on the way at a rest stop for a walk/pee/exploration break, then Maddie and I settled in on the back seat again.
The boys seem to adore me already, and the feeling is mutual. When we got home we hung out in our yard for about an hour. I explored with Maddie, and I had bursts of, "Oh, boy!" exuberation and delight, where I'd run up to my new family bouncing, then race around, grab a toy, etc., then go back to sniffing and exploring.
At first I barked at their horse, but he's pretty boring, so I'm ignoring him now. When we went back inside I met the cats but they're pretty boring too. Then there was lots of play with Maddie in the living room with the whole family watching and laughing at us.
I've got lots of toys to play with and lots of love and I feel so happy and secure. I've sent you a bunch of pictures of Maddie and me that my Mom and Dad took. I'm the 7.2-pound one.
By the way, my new Mom has renamed me. My new name is Roxy.
Well, I'm off now to sleep on the leather chair by the fire with Nick.
Thanks again,
Roxy
Dear Pet Pro Life,
Remember me? I'm the little one in all the pictures on this page. My companion in these pix is Maddie.
I thought I'd write to give you an update on how I'm doing with my new family. Well, I'll tell you I'm doing just great! It seems like I've been here forever.
As you can see from the pictures I'm enclosing, Maddie and I couldn't get along better. We play, we run, we chase, we wrestle like crazy (I bet you never knew a little dog like me was so tough!), then we cuddle and sleep together.
We go for long hikes every day. The farthest we've gone so far is about three and a half miles I get a little tired, but I always keep trotting along.
My Mom took me in to the vet soon after she first brought me home. It turns out I had kennel cough, so they gave me antibiotics. The vet also discovered that I had two fractures in my right rear foot. She said it happened just a few days before I went to the shelter. It has healed enough so that it has no movement, so she recommended just keeping an eye on it. It doesn't seem to slow me down one bit! The vet also determined that I hadn't been spayed yet, but now I have been.
I fit in with this new family so well and I'm very happy. At the end of the day, when I hop into bed with the boys and Maddie I'm contentedly tired out.
Thank you again for all you do to help so many animals like me find new families!
Your friend,
Roxy