Roosevelt's New Beginnings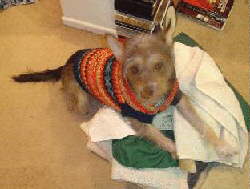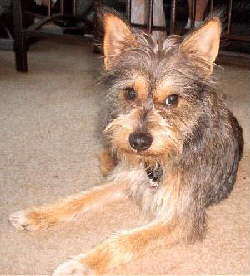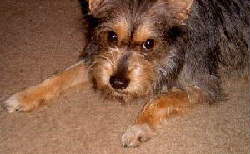 Dear Pet Pro Life,
Hi! I just thought I'd update you all on how I'm doing since my new Mom and Dad (Roxanne and Ben) adopted me from Pet Pro Life at the PETsMART store in Costa Mesa on Jan. 22, 2005.
I had Kennel Cough when I went to live with them (poor me!), but now I'm okay and doing wonderfully, and my Mom and Dad love me soooo much!
Meanwhile, it turns out I'm a bit more than a "lap dog"! Though I settle down to be what my Mom considers to be the cutest couch potato, I've also got a mischievous side! Once I got all settled into my new home, I invented the game of carrying pieces of laundry from room to room (but since I'm a good dog, I never chew them).
One ot the pictures shows me in my favorite sweater. I've got three that my "grandparents" bought me. I wear all of them proudly.
And boy! do I love my new toys! I love to chew on Dad's hand, playfully of course, and I follow Mom around everywhere she goes. I do love my Greenies, as the foster mom said, but I also like Petco's "treat bar," and Mom and Dad are trying out different kinds to see which ones I like best. I sit and shake to get one!
I'm so well house trained that my Mom can hardly believe it, and I love taking them on long walks around the condo complex. They've introduced me to other family pets (my cousins!) and we all get along just great. They say I'm truly the best dog they could've found and that they love me to death and just can't get enough of me!
Tomorrow, I'm even going to be in the paper! My Dad writes a column for the newspaper that both he and my Mom work at, so I'm gonna be famous!
They've taken tons of pictures of me. Little Rosie, as they call me, is plastered all over their fridge and the fridges of any agreeing family member or friend.
Thank you so much for helping me find this wonderful home. I love my new Mom and Dad!
Your friend,
Roosevelt