Ray's New Beginnings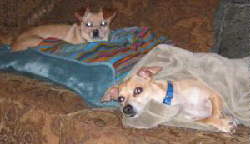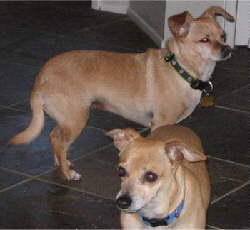 Dear Pet Pro Life,
I wanted to drop you a note to tell you how great Iím doing at my new home! It has been a couple of months since my new Mom, Julie, brought me here to live, and things are going awesome. Although you probably knew me as "Sugar Ray" I pretty much go by ďRayĒ now but I get called ďGood BoyĒ a lot, too. I have a new best friend named Daisy, who seems perfectly happy being bossed around by yours truly. We look so much alike that when we go out for our walks, people think we're brother and sister. My Mom says Iím helping Daisy learn to love life again. Can you imagine that until I came along she didnít know how great it was to sit in our Momís lap?
We go on a two- or sometimes three-mile walk every day! My Mom says I donít need to be scared of parked cars or city benches, but weíll see. I still growl at them a little.
I also live with two cats who donít much like to play chase. Their looks say ďchase me, Ray. I dare you!Ē So what is a dog supposed to do? Then they turn around and "whack....hiss!" I just donít get it. I donít trust them around my food or toys, even though Mom keeps telling me they donít want them. They must really like me, though, because every day they leave me treats in the box with the sand in it. Mom seems to be beating me to them lately, though, darn it.
I've enclosed some pictures of me and Daisy riding in our new car seat and napping.
Please tell my foster family "thanks" for taking such great care of me until I was adopted. I love my new Mom but I miss my foster family too.
Thanks, Pet Pro Life!!!
Your friend,
Ray