Pearl's New Beginnings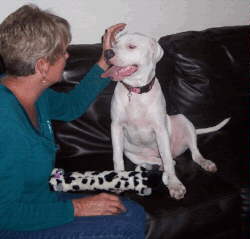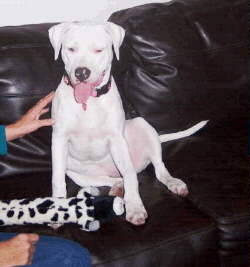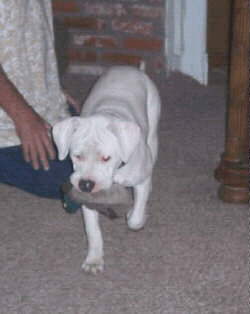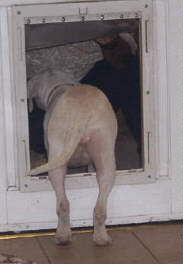 Dear Pet Pro Life,
I just wanted to let you know that I made it home to Arizona safely with my new family. I slept most the way home and now I'm busy exploring and learning the routines here. I've attached some pictures for you.
I'm making myself right at home and I found the toy box right away. I've got two lab brothers now and they still don't know what to think about me, but we'll work it out.
I'm learning to walk on a leash and to trust when somebody reaches for my collar. After all I've been through it's going to take a while, but I know I'm really going to like it here. My new family loves me a lot already. and they're helping me start a brand new life.
By the way, our house has a doggy door, so I can go in and out any time I want to.
I'll write again to keep you posted on everything, but you can rest assured that I've come to a good, loving home and I'll be well taken care of.
Thank all of you for everything.
Your friend,
Pearl
Pet Pro Life note: Pearl had hearing problems and is most likely deaf. It took a very special family to be willing to give her the chance to show what a sweetheart she is.