Mattie's New Beginnings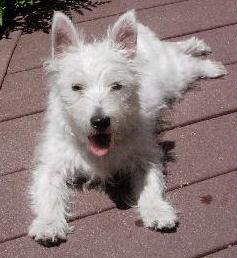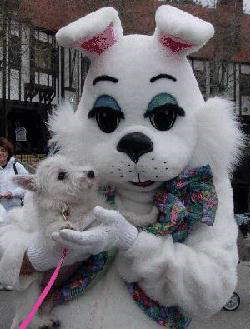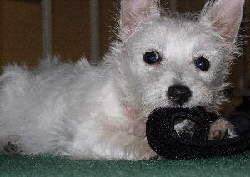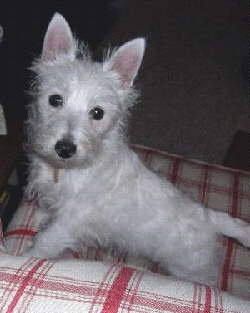 Dear Pet Pro Life,
My name is "Mattie" now, although for the brief time I was with Pet Pro Life, I was known as "Terra." I want to tell you my "Happy Endings" story, and I hope all the other dogs waiting at Pet Pro Life to find homes can be as lucky as I have been.
I'm a happy little Westie girl who was only weeks old when I was rescued and brought to Pet Pro Life. All of my people-friends and fellow rescuees there were very nice, and I had loads of fun playing with them.
I met my soon-to-be parents on a Thursday when they took me home and adopted me. I have a big back yard to play in and a neighbor cat named Gracie who shows up occasionally to play "Chase the Cat"! There are also birds in the back yard that now know I am in charge!
I get to go for walks all the time and I'm learning my manners and I'm almost housebroken. I have had my spay surgery performed by the nice vet at Boulevard Animal Hospital and I had no problems. As soon as I got home I even got rid of that funny "Pilgrim's Collar" the hospital made me wear (it wouldn't fit in my carrier bed).
I will forever be grateful for Pet Pro Life and the people who helped me find my home and my parents who love me very much!
Sincerely,
Mattie
PS: I've sent some pictures of me playing in my new home and just being a puppy.