Luna's New Beginnings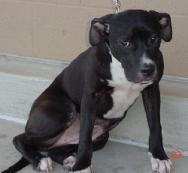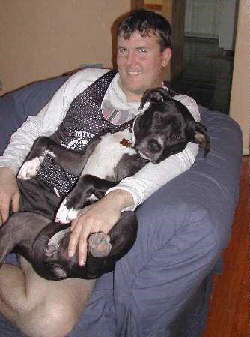 Dear Pet Pro Life,
A year or so ago I was adopted by Terry and Gavin. If you've been following the Pet Pro Life web site for very long, you might remember me as Anna, a young pit bull who had been abused and neglected. My new Mom and Dad thought the name Luna would be more appropriate for me, so they renamed me. I like my new name.
I've really become an integral part of Terry's family now. I can't imagine anyone loving me more than they do, and I love them just as much in return.
Although I don't trust people easily, Terry and Gavin have earned my trust, and I try to be the most affectionate dog they've ever known. I love them so much that I just can't help wanting to give them kisses!
Due to the abuse and neglect I experienced as a young puppy, I still tend to be fearful of strangers. At home with my family though, I'm just a happy-go-lucky, playful, snuggling bundle of love. I've really grown, and I'm pretty heavy now—fifty-five pounds—but I just love to lie on my Mom's or Dad's lap.
I've become incredibly attached to their other dog, Bacchus, and the two of us are great companions. Bacchus is the leader/Alpha dog and I happily follow his every lead. I love to interact with other dogs too, and I have a real blast going to the dog park and dog beach—I literally bounce with joy when I see other dogs to play with!
My Mom is sending along some pictures of me. The first is the one that Pet Pro Life posted on PetFinder when they were trying to find me a new home. It shows me as Anna when they first adopted me. The second shows me with my best friend, Bacchus. And the third shows me being a lap dog with my Dad.
I want to thank Pet Pro Life for all the work they do to give animals like me the good homes and lives every pet deserves.
New Era Pittsburgh Steelers On Field Classic 59FIFTY Football Structured Fitted Hat,Women's Oakland Raiders Black Touchdown Queen T-Shirt
Cheap Arizona Cardinals Football Jerseys For Sale
.Men's Oakland Raiders Majestic Gray Critical Victory T-Shirt,Men's Jacksonville Jaguars Julius Thomas Nike Player Pride Name & Number T-Shirt - Black
Cheap Arizona Cardinals Football Jerseys For Sale
.Kansas City Chiefs 8'' Plush Hoodie Bear-,Men's Miami Dolphins Ryan Tannehill Majestic Threads Aqua Primary Logo Name & Number Tri-Blend Tank Top,Men's Baltimore Ravens Nike Black Fly XL 3.0 Performance Shorts.buy wholesale nfl jerseys cheap from china free shipping,Women's New Orleans Saints New Era Black Major Chic Adjustable Hat,Men's Miami Dolphins Dan Marino Pro Line Aqua Retired Player Tri-Blend T-Shirt
Cheap Arizona Cardinals Jerseys Sale
.Mens Denver Broncos Nike Navy Blue Speed Vent Performance Shorts,Seattle Seahawks Wilson "The Duke" Official Size Replica Game Football,Carolina Panthers WinCraft Deluxe 3' x 5' Flag.Atlanta Falcons Brandish Leather Belt - Brown,'47 Brand San Francisco 49ers Youth Basic Team Logo Adjustable Hat - Black,Mitchell & Ness Dallas Cowboys Vintage T-Shirt - Navy Blue.Women's Tennessee Titans Marcus Mariota Majestic Light Blue Hang Ten T-Shirt,Women¡¯s New Orleans Saints Drew Brees Nike Black Game Jersey,Men's Majestic Black Super Bowl 50 Corner Blitz Long Sleeve T-Shirt.Men's Green Bay Packers New Era Green NFL 2Tone Throwback Original Fit 9FIFTY Adjustable Hat,Men's Kansas City Chiefs New Era Red Shadow Tech 39THIRTY Flex Hat,Tampa Bay Buccaneers Historic Logo Women's Baby Jersey Dress - Red
Cheap Arizona Cardinals Jerseys Sale
If anyone has questions about adopting an abused dog or a pit bull, or if they hesitate to do so (people stereotype us so unfairly), I'm sure my Mom would be more than happy to share her experiences with them.
Your friend,
Luna