Lily's New Beginnings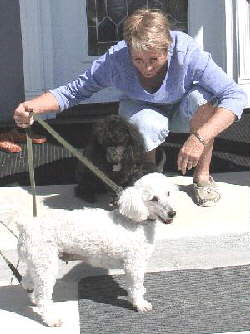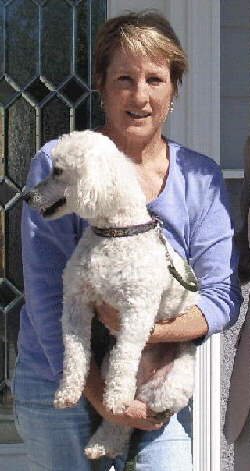 Dear Pet Pro Life,
Remember me, the miniature poodle mix? I was called "Baby" when I was with Pet Pro Life. My new Mom, Liz, adopted me a week and half ago on Saturday, April 8th. She renamed me "Lily," and I'm doing just great! I love our morning walks and I'm excellent on the leash. I really am a smart dog and I've quickly adapted to my new home. I quickly mastered the doggie doors with the help of my new brother, Tucker (a neutered three-year-old miniature poodle mix). By the way, that's me with Tucker and my new Mom in the picture.
I had a few "accidents" the first few days, but after my initial nervousness passed, I was fine and I haven't had any since then. My Mom conducts a short four-minute training session after lunch every day with both Tucker and me. We practice sitting, staying, coming and going down. She gives us tiny treats and they keep us well motivated. Tucker already knew the commands and by now, so do I. Just yesterday, I learned to stay inside by the kitchen doggie door when my Mom pulled the car out to leave. I know she was very pleased as she no longer had to tie me up, pull out, shut the garage door, go in the side door to untie me, and back out the door to the car. Both Tucker and I run out of the house when she returns home and the garage door goes up. I know it's always a highlight of Mom's day.
Regarding my teeth and gums, I had a deep cleaning by your vet before I was adopted and was on antibiotics. We finished the medicine four to five days after I arrived. A few days later my Mom started "brushing" my teeth each night with just her finger and the doggie toothpaste. Initially, I pulled away but now I know it doesn't hurt so I let her brush them. She'll probably try using the toothbrush in two to three weeks. I hope it doesn't hurt.
She hasn't bathed me yet as she was told to wait ten days until my spaying incision is healed. That'll be this weekend, I think, and I'm sure it'll be fine.
I love attention and I have a gentle way of asking for it. I'm happy that my Mom loves me. At night we sleep together. Tucker on one side, me on the other. Tucker and I haven't played together yet. We're still getting to know each other. I'm sure we will interact more as we bond. I'm the alpha dog, and Tucker is very docile. I know Tucker is happy to have me in the house. Mom says he's much braver on our walks with me accompanying them.
My foster mom had said she was trying to wean me off of canned dog food. You can let her know she doesn't have to worry. I eat my dried dog food with gusto. Both Tucker and I get a little at lunch time with a few turkey scraps. For dinner, my Mom mix it up with two tablespoons of cooked ground beef. We gobble it down quickly and then we check out each other's bowl when we're finished to make sure nothing is left.
Men's Chicago Bears Split Color Slippers,Chicago Bears Traditional Camo Contour Flip Flops
Cheap Arizona Cardinals Football Jerseys For Sale
.New Era Baltimore Ravens Training Skull Cap - Black,Men's Philadelphia Eagles Klew Midnight Green/Black Wordmark Flannel Button-Up Long Sleeve T-Shirt.Women's Atlanta Falcons Nike Pink Breast Cancer Awareness V-Neck Tri-Blend T-Shirt,Miami Dolphins WinCraft Beach Towel -.The Northwest Company Miami Dolphins 46" x 60" Sherpa Throw with Foot Pocket,Miami Dolphins Home and Away Cup Set,Men's San Francisco 49ers Nike Black KO Logo Essential Pullover Hoodie
Cheap Arizona Cardinals Football Jerseys For Sale
.Mens Cincinnati Bengals Pro Line Orange Color Block Vent Shell Big & Tall Jacket,Nike Detroit Lions Women's Performance Pro Sports Bra - Black
NFL Jerseys Arizona Cardinals Cheap
.Women's New York Giants Cuce Black Timeout Trench Coat,Chicago Bears Super Bowl XX Champions Commemorative Paperweight.Philadelphia Eagles Infant High Top Shoes - Black,Men's San Diego Chargers G-III Sports by Carl Banks Navy/Gray Era Crew Fleece Sweatshirt,Plastic Jars. We're Your Plastic Jar One-Stop-Shop | No Minimums!
NFL Jerseys Arizona Cardinals Cheap
.Cleveland Browns Retro Drawstring Backpack,Antigua New York Jets Point Polo - Green,Miami Dolphins Vinyl Auto Stripe Decal
I've met my Mom's family, all the neighbors, and their dogs. All of them seem to really like me. I'm very friendly and I see every person and every dog as a possible source of attention.
Thank you and all the Pet Pro Life volunteers.
Your friend,
Lily