Kristi's New Beginnings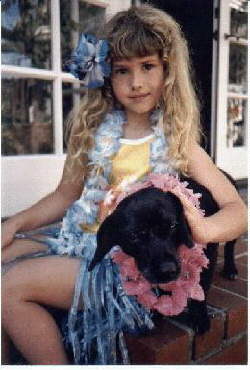 Dear Pet Pro Life,
Hi! I'm Kristi. How are all your other dogs doing? I'm doing great with my human friend Alexandra. She lets me cuddle up to her every night. I enjoy hanging out with her every day.
Alexandra, who is seven years old, adopted me in September, 2002. Before that I had lived in a motel. My owner had to release me to PPL when he qualified for a government-assisted apartment. When Alexandra and her Mom spotted my photograph on the PPL website, they immediately called to see if I was available. Margaret, the PPL volunteer, returned our call and said that she had been praying that someone would adopt me. They knew I was theirs the moment they saw me walking with Margaret from her car in the parking lot of PETsMART. I think I've been a blessing to Alexandra's whole family, although I had quite an adjustment learning to live in a house instead of a motel. I did a lot of crying when they walked from room to room. And I didn't know what to do with the staircase that separated me from the family. But settle in I did.
I sleep under the covers, share my food with the family's two rescue cats, and sit in the bay window during the daytime when anyone leaves the house. They nicknamed me "Kristi Beth." I even wore a Hawaiian lei and had my toenails painted pink for Alexandra's seventh birthday party!
Margaret, the wonderful PPL volunteer, has been a real blessing to Alexandra's family. I believe I've had a really positive impact on them, and especially "my best friend," Alexandra.
Your friend,
Kristi