Josie's New Beginnings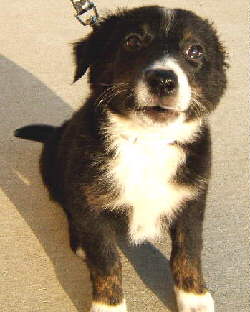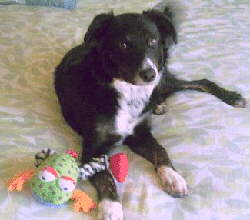 Dear Pet Pro Life,
You knew me as Sheila, but my new family decided I looked more like a Josie to them, so my name has been changed. Everyone wants to know if I was named after "Josie and the Pussycats," but probably I was really named after Josie Wells the Outlaw because I like to steal anything I can get my paws on—socks, shoes, balls....
I've been in my new home now for five months and I'm very happy as long as I have at least one family member here. I'm smart as a whip and very playful, but I'm also a sweet little cuddler. As you can see from my picture, I love my toys, too!
My favorite activity is going to the dog park, which we do two or three times a week (why we can't go every day I don't know!!). In fact, I love it so much that my family has to spell out d-o-g p-a-r-k when they talk about it, or I go crazy until we get in the car!
When I go to the dog park I show my predominant Border Collie genes as I herd all the running dogs around the park. I do love to run after running dogs, but if they turn around and chase me, I high-tail it under a bench!! In September I'm going to begin taking classes in Agility Training, so my family and I will have something fun to do together.
Well, I just wanted to let you know that things have worked out very well for me. The wonderful people at Pet Pro Life sure gave me a good New Beginning, and my family and I will always be grateful to them!
Your friend,
Josie