Henry & Teddy's New Beginnings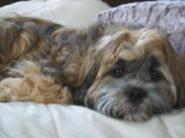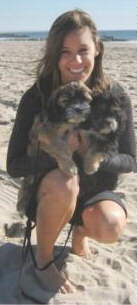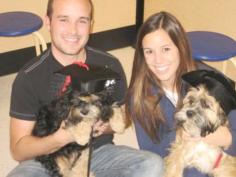 Dear Pet Pro Life,
You might remember us as Danny and Teddy, the two little cocker spaniel terrier mixes. We were adopted from Pet Pro Life on October 18, 2008 and now we go by Henry and Teddy. Our people remember when they saw Henry's little face on your adoption website and then couldn't let either of us go when they agreed to foster us for a week. Since then we've grown from only two pounds and four pounds to a great big fifteen pounds and eighteen pounds!
We can't get enough of life here on the beach! Our favorite things to do are to go to the beach and run in the sand, go swimming, play in our grandma's backyard, and play with our grandma's two Australian Shepherds, Zoie and Hannah. As you can see from our picture we graduated from puppy school after a lot of hard work and practice. We love living with each other and we sleep together every night. We're also very attached to our people because we go everywhere with them: shopping at Fashion Island, to their friends houses, and of course to say, "Hello," and "Thank you," to all the wonderful volunteers at Pet Pro Life.
Our people wanted to thank you for the amazing little guys we are and for allowing the four of us to make a home together. You truly saved our lives and you've made our people happy and thankful to have us every day.
Thank you for helping us find our forever home. We'll come say "Hello" soon.
Your friends,
Henry & Teddy
Dear Pet Pro Life,
We are writing to say we're sorry we haven't stopped by to visit for a while but early in 2011 we were in an accident. We were both hit by a car and rushed to emergency care. Teddy spent a couple of days in the hospital with some relatively minor injuries but Henry's right eye was seriously hurt. The doctor did all he could over about 10 days but we just couldn't save it.
Our human mom spent almost all her time with us during this and helped us pull through. We're so lucky to have found this family. Teddy is back to his normal self and Henry is doing great too. He has a prosthetic right eye and is able to do everything with just the vision in the left eye.
The better news is that we have both passed our TDI Therapy Dog tests and are now volunteering at hospitals, foster homes, and schools throughout Orange County. It's very rewarding and lots of fun.
We'll be by to see you soon,
Henry & Teddy