Chester's New Beginnings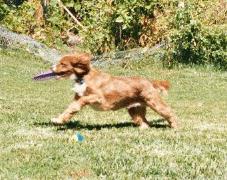 Dear Pet Pro Life,
I was very lucky to be adopted by my new Mom, Dianne, through Pet Pro Life on March 25, 2003. My mom feels lucky too and says that I've brought nothing but utter joy to her family.
I love to catch Frisbees—all day long if I had my way.
Mom periodically checks out the Pet Pro Life website, but since she already has three dogs, she can't adopt another one at this time.
Mom and I want to let you know how much we admire the work you and the volunteers do on behalf of all the dogs and cats who need to find good homes.
Mom took some pictures of me and I'm sending them along to share them with you. Perhaps you remember me; Mom says I'm hard to forget, because I'm so cute!
Paws and kisses,
Chester