Charley's New Beginnings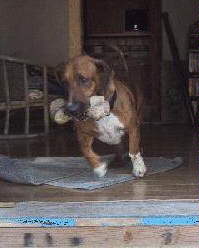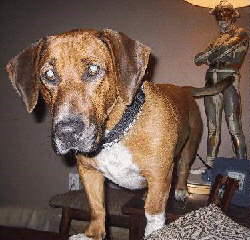 Dear Pet Pro Life,
Many of you at Pet Pro life probably remember me as Harley, but I was adopted about six months ago by my new Mom, Liz, and she renamed me Charley. She says she clicked on my picture on the web site, expecting to see a huge dog. But instead she found me. She says that I put a smile on the face of everyone I meet!
It took me a few months to get used to my new surroundings and come out of my shell, but now I feel right at home and I guard Liz's back yard from squirrels and birds just as if I've always lived here. I always try to be well behaved, and I even got to go to work with Liz for a few days. Now she says everyone there wants her to bring me back. When I got there I just laid down contentedly and I never fussed or bothered anyone. Of course I'm a lot more energetic than that when I'm home.
I always try to be a great companion and I've made fast friends with Liz's boyfriend.
I love to run around the back yard and then run inside and leap onto the bed. Even at night, I'm a gentleman, and as soon as the light is turned off I jump off the bed and sleep on my own pillow.
Liz and I have started going out for walks in the morning. After a couple days it got to be a habit and now I won't let Liz sleep in. I'm not sure who takes whom for the walks, but we both enjoy them. Now Liz has begun jogging every morning and she even signed up for a half marathon! We're both in training now.
Liz told me to thank Pet Pro Life for hooking her up with what she calls "the best dog in the world."
Your friend,
Charley