Bob Marley's New Beginnings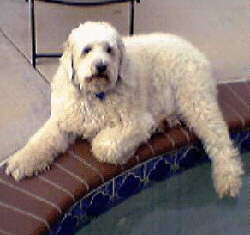 Dear Pet Pro Life,
I just wanted to say "Hello" to Jane and all the others at Pet Pro Life.
I'm sending along a picture so all of you can see how my life has turned out. I can hardly even remember my days on the streets anymore.
It took me quite a while before I could relax and trust people, but I've been with this family for almost a year now, and no matter what I do they still love me.
The mother-person is always hugging and kissing me. My "brothers," the college boys, are a lot of fun. I get to play rough house with them too, and they usually let me win. Sometimes they take me out with them because they say I'm a girl-magnet.
Thank you so much, Pet Pro Life, for rescuing me and finding me such a good home.
Your friend,
Bob Marley
P.S. Truth is, these people are really spoiling me.
Sadly, we received this news from Bob Marley's adopted mom in December 2011:
I just want to let you know that Bob Marley, who we adopted in August of 2004, passed away on November 25th, 2011. He died of old age. He lived well and was having fun until 30 minutes before he passed on. He died in my arms with his St Bernard sister by his side. It was very quick and peaceful. Marley was a unique dog. In fact we were never sure he was a dog. He was more like a spirit in a dog's body. A piece of my heart went with Marley and he will be missed. Thank you for finding Marley and allowing me to adopt him. He made a difference in my life.