Archie's New Beginnings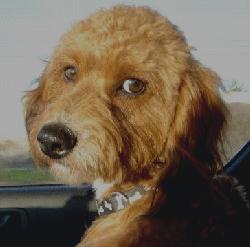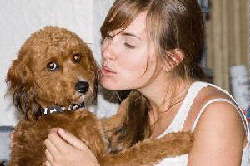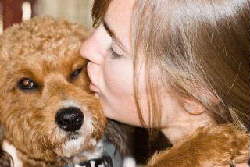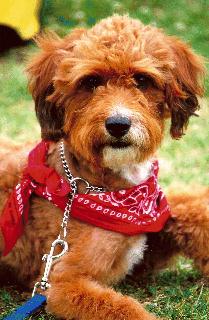 Dear Pet Pro Life,
Remember me? My name is Archie, the little teripoo you rescued from an Orange County Shelter. They had marked me as aggressive, so I was on "doggy death row." Thankfully, Pet Pro Life recognized that I was just scared. When I moved in with my foster parents, Irma and Mike, they found I was full of love and cuteness.
My foster parents placed me with the perfect family. They say I am so full of cuteness they can't stop giving me kisses. After a week or two, I decided I loved them so much I began giving kisses too. I'll admit it, when they leave, I miss them so much, I find their dirty clothes and cuddle with them. They smell just like momma and dadda!
I have a blast with my momma and dadda. We go on fun hikes throughout the Santa Monica mountains, running, and on play dates with my friends in the neighborhood. Sometimes, momma takes me to The Grove to go shopping. I go everywhere with her, even into the dressing rooms at stores! Everyone just thinks I am so cute and well behaved, we have no trouble getting in anywhere!
Some of the other dogs think I'm spoiled. I tell them, "I just have my parents well trained." They are always buying me new toys, looking for new dog friendly hikes, and cuddling with me. I know exactly what to do to make them give me treats. I sit, come, stay, and jump into their laps. They are so well trained they praise me and give me a little snack. That's what happens when you know how to look into their eyes and thrill them with cuteness!
Well, I have to go now. Momma is taking me to the pet store!
Paws and kisses,
Archie
P.S. I've attached some pictures from my adventures with momma and dadda.
Dear Pet Pro Life,
New Era Detroit Lions Women's Blue Truck Shine 9FORTY Adjustable Hat,Arizona Cardinals Steering Wheel Cover,Nike New York Jets Women's Basic Logo T-Shirt - Green.Men's Denver Broncos '47 Brand Black Cleanup Legacy Adjustable Hat,Detroit Lions Fantasy Leader T-Shirt - Light Blue
Cheap Carolina Panthers Derek Anderson Jersey
.Men's Seattle Seahawks Russell Wilson Majestic College Navy Big & Tall Player Name & Number T-Shirt,Women's Indianapolis Colts Cuce Shoes Royal Team Sandals,Detroit Lions Preschool Light Blue Field Goal T-Shirt & Shorts Set
Carolina Panthers Nike Jerseys
.Pro Line Houston Texans Ridgeline Puff Quilted Full Zip Jacket - Navy Blue,Men's Cincinnati Bengals New Era Orange/Graphite Gold Collection Team Color Knit Hat.Mens Philadelphia Eagles New Era Black/Gray Two-Toned 59FIFTY Fitted Hat,Mens Chicago Bears Pro Line Navy Blue Solace Slub Hooded Sweatshirt
Custom Carolina Panthers Jersey
.cheap nfl decals year 2000,wholesale jerseys 4u,Women's Houston Texans Majestic Navy/Red Football Miracle T-Shirt.Pittsburgh Steelers Jerome Bettis Highland Mint 2015 Hall of Fame Pano Photomint,Men's Oakland Raiders Amari Cooper Black Name & Number Tri-Blend T-Shirt
Nike Carolina Panthers Youth Jerseys
.Men's Philadelphia Eagles New Era Midnight Green/Graphite Gold Collection Team Color Knit Hat,Youth New Orleans Saints Yellow Neon Logo T-Shirt
This is an extra little note to let you know how proud I am that today I graduated from novice obedience training. Not only did I graduate, but I placed second in my class among fifteen other dogs! My momma and dadda are so proud!
I can't thank you enough for recognizing me on "doggy death row" and saving my life. My momma and dadda say that words can't describe the joy I've brought into their home. I get along so well with their chinchillas, Dottie and Herman. They run to greet me, and we have little conversations talking to each other through the cage.
My momma and dadda have taken me camping, to the beach, the country, and even into dressing rooms at department stores! I enjoy playing catch, and Frisbee every evening. We have so much fun!
This picture of me in my red bandana is my graduation picture. I'm a pretty handsome little fellow if I do say so myself.
Love and kisses,
Archie